A few nice 7 axis machining photos I found:
Astrokits Quartz Stepper Barn Door camera platform


Image by distar97
A view of the bottom of the one hundred tooth primary gear employed in the Astrokits Quartz/Stepper camera platform. The center hole is tapped to accept the eight-32 brass rod. Only 4 threads of the rod are in speak to with the gear, which allows for the rod getting curved.
The hub has a slight taper to let the gear to cleanly mate into the bearing, a necessity given that the gear is usually on the curved rod and needs to be lifted away occasionally to be repositioned.
Only the leading of the hub fits the bearing. Also, there is a .035 high surface about the hub. This makes it possible for the gears to rest on the bearing with no touching the fixed outer ring.
The leading surface of the bearing is at a height that is barely below the height of the center axis of the hinge. It's easy to check with a steel rule. The center of the gear face is exactly in line with the hinge axis. The gear was tapped a small loose to enable for slight mismatches.
The gear was a custom style made for me by Chicago Gear Works. It was machined from a single piece of brass. Sadly they are out of company and making a gear like this today would be extremely pricey. The excellent issue is I'm discovering alternative domestic suppliers that have a quantity of stock gears that want minimal machining, almost certainly not from brass even though. I'm investigating the various possibilities.
This gear is 48 pitch, 14-1/two degrees pressure angle, 100 tooth,1/8 inch face. The pinion gear is the identical but 20 tooth with no hub. You can use an additional pitch or pressure angle. This gear is merely a variation on a stock gear my supplier had. It is crucial that both gears be matched by employing identical numbers, whatever is obtainable to you.
Open House, World War II re-enactment, and auto & airplane museum at Collings Foundation, Stow MA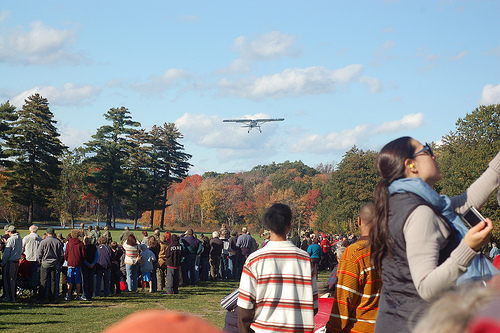 Image by Chris Devers
Pasting from the website of the Collings Foundation:
The Collings Foundation Hosts:
Battle for the Airfield
WWII Reenactment and Living History Weekend
October 10th and 11th
Image this:
….An undercover French Resistance Fighter met with the Allied Forces and showed the exact coordinates of the German encampment. The night prior to an elite German force more than took a tiny grass airstrip just a few hundred feet away. The Allied Forces had to achieve control of this airfield so they could fly in significantly-necessary supplies. – It was going to be a challenging fight.
How will the battle end? Will the Allied troops be capable to achieve control of the airfield and further their advancement? You will have to be right here to discover out. The Collings Foundation will host a Living History event you will never neglect. You will be able to see original equipment from WWII in action. Every thing from the cooking utensils to M1 rifles is original. The only occasion of this sort – in the planet. – Don't miss it!
October 10th and 11th
Open Day-to-day: eight:30 AM to 4:30 PM
Entry Fee: Adults / Youngsters
This is a public event and reservations are not necessary.
Two reenactments per day: 11:00 AM and 3:30 PM.
Display will consist of:
* Aircraft: TBM Avenger, Wright &quotVin Fiz&quot replica, 1909 Bleriot, Fokker DR-I replica, PT-17 Stearman, Cessna UC-78 Bobcat, North American AT-6 Texan, Fiesler Fi-156 Storch, and several more!
* Automobiles: Entire Collings Foundation collection – see list for details.
* Collings Foundation Gift Shop
* Vetran's Roundtable Discussion: Hear wonderful stories from WWII Veterans about thier experiences during the war. 1:00 PM on hangar floor – both ten/ten and 10/11.
* PT-17 Stearman Rides – Restricted Availability
* for 1/two Hour
* Get in touch with 978-562-9182 for reservations.
* See PT-17 Info here
* T-6 Texan Rides – Limited Availability
* for 45 minutes
* Call 978-562-9182 for reservations.
* The WWII Battle reenactment will take place twice each and every day on the grass landing strip in front of the hangar. It will take place at 11 AM and 3:30 PM.
* There will be suprises each battle!
* The Collings Foundation grounds are quite good and make a wonderful setting for such an occasion. Receiving right here is difficult! Click on the hyperlink above for directions.
* The Fiesler FI-156 Storch has an outstanding history in the course of WWII. This aircraft is well recognized for its versatility and straightforward flying traits. The plane that saved Mussolini! (temporarily). We will be flying as element of the battle reenactment.
* Our M-16 Half-Track has been beautifully restored. The quad mount 50cal machine guns fully rotate. The M-16 will be participating in the WWII battle reenactments.
* The German 88mm flak cannon was feared by all airmen. One of the very first weapons to have &quotpre-programmed&quot ammunition. This cannon will also be a part of the battle reenactments.
* For a &quotbirds eye&quot view of the occasion- we will be offering PT-17 Stearman and T-six Texan flights. Flying in these aircraft is a lot of entertaining! Call to reserve your flight: 800-568-8924
* Post-war German ingenuity.. A Messerschmitt minicar! On display courtesy of the Gould Foundation collection.
* It will be the Allied vs. the Axis in a very memorable battle re-enactment! This living history perfomance will captivate and educate. It will take spot each and every day at 11 AM and 3:30 PM.