Open Property, World War II re-enactment, and auto & airplane museum at Collings Foundation, Stow MA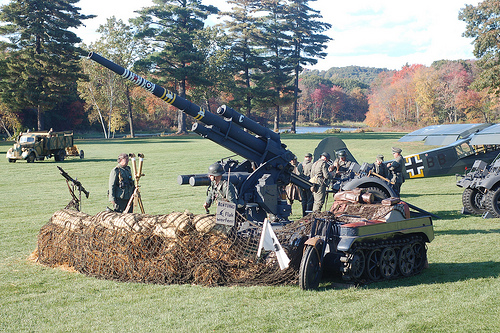 Image by Chris Devers
Pasting from the internet site of the Collings Foundation:
The Collings Foundation Hosts:
Battle for the Airfield
WWII Reenactment and Living History Weekend
October 10th and 11th
Picture this:
….An undercover French Resistance Fighter met with the Allied Forces and showed the precise coordinates of the German encampment. The night before an elite German force more than took a small grass airstrip just a few hundred feet away. The Allied Forces had to obtain control of this airfield so they could fly in considerably-needed supplies. – It was going to be a difficult fight.
How will the battle end? Will the Allied troops be able to gain handle of the airfield and additional their advancement? You will have to be here to uncover out. The Collings Foundation will host a Living History occasion you will never ever neglect. You will be in a position to see original equipment from WWII in action. Every little thing from the cooking utensils to M1 rifles is original. The only event of this sort – in the planet. – Do not miss it!
October 10th and 11th
Open Everyday: eight:30 AM to 4:30 PM
Entry Fee: Adults / Young children
This is a public occasion and reservations are not needed.
Two reenactments per day: 11:00 AM and three:30 PM.
Display will include:
* Aircraft: TBM Avenger, Wright &quotVin Fiz&quot replica, 1909 Bleriot, Fokker DR-I replica, PT-17 Stearman, Cessna UC-78 Bobcat, North American AT-six Texan, Fiesler Fi-156 Storch, and several more!
* Automobiles: Complete Collings Foundation collection – see list for details.
* Collings Foundation Gift Shop
* Vetran's Roundtable Discussion: Hear amazing stories from WWII Veterans about thier experiences in the course of the war. 1:00 PM on hangar floor – each ten/ten and 10/11.
* PT-17 Stearman Rides – Restricted Availability
* for 1/2 Hour
* Call 978-562-9182 for reservations.
* See PT-17 Info right here
* T-6 Texan Rides – Limited Availability
* for 45 minutes
* Contact 978-562-9182 for reservations.
* The WWII Battle reenactment will take location twice each day on the grass landing strip in front of the hangar. It will take spot at 11 AM and 3:30 PM.
* There will be suprises each and every battle!
* The Collings Foundation grounds are extremely nice and make a fantastic setting for such an occasion. Receiving here is tricky! Click on the hyperlink above for directions.
* The Fiesler FI-156 Storch has an extraordinary history during WWII. This aircraft is well identified for its versatility and easy flying traits. The plane that saved Mussolini! (temporarily). We will be flying as component of the battle reenactment.
* Our M-16 Half-Track has been beautifully restored. The quad mount 50cal machine guns totally rotate. The M-16 will be participating in the WWII battle reenactments.
* The German 88mm flak cannon was feared by all airmen. One of the 1st weapons to have &quotpre-programmed&quot ammunition. This cannon will also be a portion of the battle reenactments.
* For a &quotbirds eye&quot view of the event- we will be providing PT-17 Stearman and T-6 Texan flights. Flying in these aircraft is a lot of fun! Call to reserve your flight: 800-568-8924
* Post-war German ingenuity.. A Messerschmitt minicar! On show courtesy of the Gould Foundation collection.
* It will be the Allied vs. the Axis in a extremely memorable battle re-enactment! This living history perfomance will captivate and educate. It will take place every day at 11 AM and three:30 PM.
3D Systems Ships GibbsCAM 2015 for Production Machining
Developed for ease-of-use, GibbsCAM empowers numerical handle programmers and machinists with solid modeling, two- via five-axis milling, higher speed machining, mill/turn, Swiss, multi-job machining and wire-EDM capabilities. "We are committed to …
Read far more on Ten Links
7 Issues to Know about the Web of Factors and Market four.
Whereas MTConnect especially facilitates the connection of machine tools and other related manufacturing gear to a information-collection network, standards such as OPC-UA address the interoperability needed for plant-wide data communication. … five …
Read far more on Contemporary Machine Shop