Verify out these five axis machining parts photos:
Steven F. Udvar-Hazy Center: Vought F4U-1D Corsair, with P-40 Warhawk in background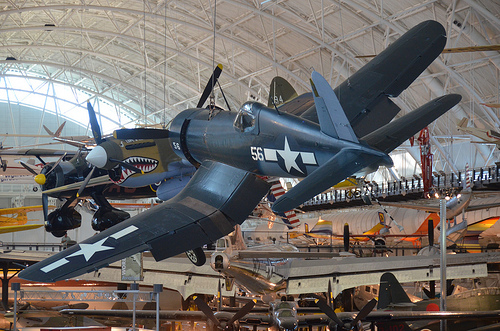 Image by Chris Devers
Quoting Smithsonian National Air and Space Museum | Vought F4U-1D Corsair :
By V-J Day, September two, 1945, Corsair pilots had amassed an 11:1 kill ratio against enemy aircraft. The aircraft's distinctive inverted gull-wing design and style allowed ground clearance for the massive, three-bladed Hamilton Normal Hydromatic propeller, which spanned more than four meters (13 feet). The Pratt and Whitney R-2800 radial engine and Hydromatic propeller was the largest and a single of the most powerful engine-propeller combinations ever flown on a fighter aircraft.
Charles Lindbergh flew bombing missions in a Corsair with Marine Air Group 31 against Japanese strongholds in the Pacific in 1944. This airplane is painted in the colors and markings of the Corsair Sun Setter, a Marine close-assistance fighter assigned to the USS Essex in July 1944.
Transferred from the United States Navy.
Manufacturer:
Vought Aircraft Company
Date:
1940
Country of Origin:
United States of America
Dimensions:
All round: 460 x 1020cm, 4037kg, 1250cm (15ft 1 1/8in. x 33ft five 9/16in., 8900lb., 41ft 1/8in.)
Supplies:
All metal with fabric-covered wings behind the primary spar.
Physical Description:
R-2800 radial air-cooled engine with 1,850 horsepower, turned a three-blade Hamilton Standard Hydromatic propeller with solid aluminum blades spanning 13 feet 1 inch wing bent gull-shaped on each sides of the fuselage.
• • • • •
Quoting Smithsonian National Air and Space Museum | Curtiss P-40E Warhawk (Kittyhawk IA):
Whether identified as the Warhawk, Tomahawk, or Kittyhawk, the Curtiss P-40 proved to be a productive, versatile fighter during the first half of Globe War II. The shark-mouthed Tomahawks that Gen. Claire Chennault's &quotFlying Tigers&quot flew in China against the Japanese remain among the most well-known airplanes of the war. P-40E pilot Lt. Boyd D. Wagner became the initial American ace of World War II when he shot down six Japanese aircraft in the Philippines in mid-December 1941.
Curtiss-Wright built this airplane as Model 87-A3 and delivered it to Canada as a Kittyhawk I in 1941. It served until 1946 in No. 111 Squadron, Royal Canadian Air Force. U.S. Air Force personnel at Andrews Air Force Base restored it in 1975 to represent an aircraft of the 75th Fighter Squadron, 23rd Fighter Group, 14th Air Force.
Donated by the Exchange Club in Memory of Kellis Forbes.
Manufacturer:
Curtiss Aircraft Firm
Date:
1939
Nation of Origin:
United States of America
Dimensions:
General: 330 x 970cm, 2686kg, 1140cm (10ft 9 15/16in. x 31ft 9 7/8in., 5921.6lb., 37ft 4 13/16in.)
Supplies:
All-metal, semi-monocoque
Physical Description:
Single engine, single seat, fighter aircraft.
Steven F. Udvar-Hazy Center: Grumman F6F-3 Hellcat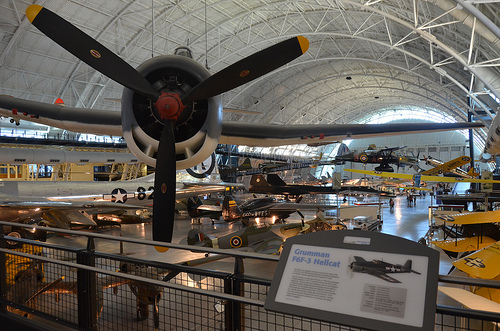 Image by Chris Devers
Quoting Smithsonian National Air and Space Museum | Grumman F6F-three Hellcat:
The Grumman F6F Hellcat was originally conceived as an advanced version of the U.S. Navy's then present front-line fighter, the F4F Wildcat (see NASM collection). The Wildcat's intended replacement, the Vought F4U Corsair (see NASM collection), very first flown in 1940, was showing great guarantee, but development was slowed by troubles, such as the crash of the prototype.
The National Air and Space Museum's F6F-3 Hellcat, BuNo. 41834, was constructed at Grumman's Bethpage, New York, factory in February 1944 below contract NOA-(S)846. It was delivered to the Navy on February 7, and arrived in San Diego, California, on the 18th. It was assigned to Fighter Squadron 15 (VF-15) on USS Hornet (CV12) bound for Hawaii. On arrival, it was assigned to VF-three where it sustained harm in a wheels-up landing at NAS Barbers Point, Hawaii. Soon after repair, it was assigned to VF-83 exactly where it was utilized in a training part till February 21, 1945. Soon after many transfers 41834 was converted to an F6F-3K target drone with the installation of sophisticated radio-manage gear. It was painted red with a pink tail that carried the number 14. Its mission was to be employed in Operation Crossroads – the atomic bomb tests at Bikini Atoll. It flew on June 24, 1946, with a pilot, on a practice flight and was launched, unmanned, soon right after the initial bomb test. Instrumentation on board and photographic plates taped to the handle stick obtained information on radioactivity. Three a lot more manned flights preceded the final unmanned flight on July 25, 1946, which evaluated the first underwater explosion. Records indicate that exposure of this aircraft to the radioactive cloud was minimal and residual radiation is negligible.
F6F-3K 41834 was transferred to NAS Norfolk and logged its final flight on March 25, 1947, with a total of 430.two flying hours. It was assigned to the National Air Museum on November three, 1948, and remained at Norfolk till October 4, 1960, when it was moved by barge to Washington and placed in storage. In 1976 this Hellcat was loaned to the USS Yorktown Museum at Charleston, South Carolina. A superficial restoration was performed at the museum, but because of the harsh atmosphere and its poor condition the Hellcat was returned to NASM on March 16, 1982. In 1983, it was sent to Grumman Aerospace where a group of volunteers entirely restored the aircraft. In 1985, it was shipped back to the Paul E. Garber Preservation, Restoration and Storage Facility in Suitland, Maryland, and put in storage. NASM's F6F-three Hellcat is scheduled to be displayed in the new Steven F. Udvar-Hazy center at Dulles International Airport in Virginia in 2004.
Transferred from the United States Navy.
Manufacturer:
Grumman Aircraft Engineering Corporation
Date:
1943
Nation of Origin:
United States of America
Dimensions:
General: 338 x 1021cm, 4092kg, 1304cm (11ft 1 1/16in. x 33ft five 15/16in., 9021.2lb., 42ft 9 3/8in.)
Physical Description:
Heavy armor plate, reinforced empennage, R-2800-10W engine, spring tabs on the ailerons (elevated maneuverability), could carry rockets as effectively as bombs.