A few nice 5 axis machining parts photos I identified:
069 I_01b Web page 1 Detail from H. P. Lovecraft 18-Nov-1932 Letter to E. Hoffmann Price tag five.4 X 6.9 From the 10-May-1981 Envelope to William Hart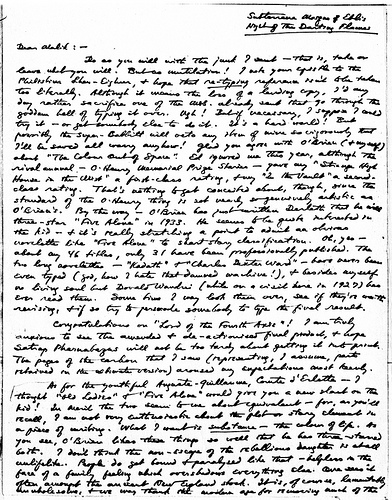 Image by CthulhuWho1 (Will Hart)
Description and Transcription from Henry Paget-Lowe (Juha-Matti Rajala):
[This is the initial page of a letter from HPL to Cost of 18 November 1932. Component of the letter is excerpted in Arkham House's Selected Letters four.110- (# 582) — note the AH marking for stenographer at the beginning of the third paragraph to begin transcribing there.]
Subterrane Mosque of Eblis
Evening of the Darting Flames
Dear Malik:—
Do as you will with the junk I sent—that is, take or leave what you will. But no mutilation! I note your epistle to the Philistine Lhen-Eighur, &amp hope that re-typing reference is not to be taken also actually. Though it indicates the loss of a landing copy, I'd any day rather sacrifice one of the MSS. currently sent than go by means of the goddam hell of typing it over. Ugh! But if necessary, I suppose I could try it—or get somebody else to do it. It is a difficult planet! But possibly the super-Babbitt will veto any item of mine so vigorously that I'll be saved all be concerned anyhow! Glad you agree with O'Brien (&amp myself) about "The Colour Out of Space". Ed ignored me this year, though the rival annual—O. Henry Memorial Prize Stories—gave my "Strange Higher House in the Mist" a 1st-class rating, &amp my "In the Vault" a second class rating. That is absolutely nothing to get conceited about, though, since the regular of the O. Henry factor is not mearly so genuinely artistic as O'Brien's. By the way—O'Brien has just written Derleth that he will three-commence "Five Alone" in 1933. He seems to be fairly interested in the kid—&amp it is actually stretching a point to admit an obvious novelette like "Five Alone" to short story classification. Oh, yes—about my 46 titles, only 31 have been professionallu published. The two extended novelettes—"Kadath" &amp "Charles Dexter Ward"—have never been even typed (god, how I hate that damned machine!), &amp besides myself no living soul but Donald Wandrei (while on a pay a visit to here in 1927) has even read them. Some time I my look them more than, see if they're worth revising, &amp if so try to persuade somebody to sort final result.
Congratulations on "Lord of the Fourth Axis!" I am truly anxious to see the amended &amp de-actionised final solution, &amp hope Satrap Pharnabazus will not be too tardy about acquiring it into print. The page of the carbon that I saw (representing, I assume, element retained in the ultimate version) aroused my expectations most keenly.
As for the youthful Auguste-Guillaume, Comte d'Erlette—I believed "Old Ladies" &amp "Five Alone" would give you a new slant on the kid! In merit the two look to me about equivalent—for, as you will recall, I am not extremely enthusiastic about the plot or story element in a piece of writing. What I want is substance—the colour of life. As you see, O'Brien likes these items so properly that he has three-starred each. I do not believe the non-escape of the rebellious daughter is at all unlifelike. Men and women do get bound &amp paralysed like that—helpless in the face of a family members feeling which overshadows every little thing else. One sees it frequently amongst the ancient New England stock. It is, of course, lamentably unwholesome, &amp we might thank the modern day age for removing considerably of the [. . . continued here: www.flickr.com/images/cthulhuwho1/6797823682/ in/photostream/]
Lhen-Eighur = August Lenniger
Auguste-Guillaume = August Derleth
Satrap Pharnabazus = Farnsworth Wright
See and hear a lot more Lovecraftian Products at the sister web sites to these Flickr collections at:
cthulhuwho1.com
and
www.youtube.com/user/CthulhuWho1
Open Residence, Planet War II re-enactment, and auto & airplane museum at Collings Foundation, Stow MA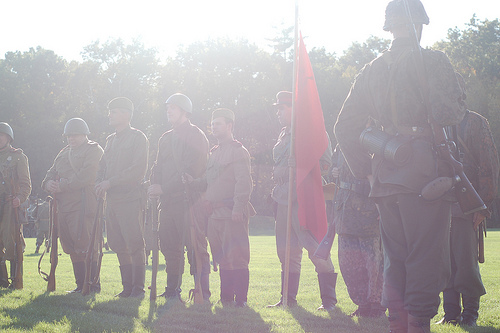 Image by Chris Devers
Pasting from the web site of the Collings Foundation:
The Collings Foundation Hosts:
Battle for the Airfield
WWII Reenactment and Living History Weekend
October 10th and 11th
Picture this:
….An undercover French Resistance Fighter met with the Allied Forces and showed the exact coordinates of the German encampment. The night prior to an elite German force more than took a small grass airstrip just a few hundred feet away. The Allied Forces had to obtain control of this airfield so they could fly in much-required supplies. – It was going to be a challenging fight.
How will the battle finish? Will the Allied troops be capable to gain control of the airfield and additional their advancement? You will have to be here to uncover out. The Collings Foundation will host a Living History event you will by no means neglect. You will be able to see original gear from WWII in action. Every thing from the cooking utensils to M1 rifles is original. The only event of this variety – in the planet. – Don't miss it!
October 10th and 11th
Open Every day: 8:30 AM to 4:30 PM
Entry Fee: Adults / Youngsters
This is a public occasion and reservations are not required.
Two reenactments per day: 11:00 AM and three:30 PM.
Display will contain:
* Aircraft: TBM Avenger, Wright &quotVin Fiz&quot replica, 1909 Bleriot, Fokker DR-I replica, PT-17 Stearman, Cessna UC-78 Bobcat, North American AT-six Texan, Fiesler Fi-156 Storch, and numerous far more!
* Automobiles: Entire Collings Foundation collection – see list for details.
* Collings Foundation Present Shop
* Vetran's Roundtable Discussion: Hear amazing stories from WWII Veterans about thier experiences throughout the war. 1:00 PM on hangar floor – both ten/10 and ten/11.
* PT-17 Stearman Rides – Limited Availability
* for 1/two Hour
* Call 978-562-9182 for reservations.
* See PT-17 Info here
* T-6 Texan Rides – Restricted Availability
* for 45 minutes
* Get in touch with 978-562-9182 for reservations.
* The WWII Battle reenactment will take location twice every single day on the grass landing strip in front of the hangar. It will take spot at 11 AM and three:30 PM.
* There will be suprises every single battle!
* The Collings Foundation grounds are quite nice and make a excellent setting for such an occasion. Receiving here is difficult! Click on the link above for directions.
* The Fiesler FI-156 Storch has an incredible history for the duration of WWII. This aircraft is well recognized for its versatility and simple flying traits. The plane that saved Mussolini! (temporarily). We will be flying as part of the battle reenactment.
* Our M-16 Half-Track has been beautifully restored. The quad mount 50cal machine guns fully rotate. The M-16 will be participating in the WWII battle reenactments.
* The German 88mm flak cannon was feared by all airmen. One particular of the very first weapons to have &quotpre-programmed&quot ammunition. This cannon will also be a portion of the battle reenactments.
* For a &quotbirds eye&quot view of the occasion- we will be offering PT-17 Stearman and T-six Texan flights. Flying in these aircraft is a lot of fun! Call to reserve your flight: 800-568-8924
* Post-war German ingenuity.. A Messerschmitt minicar! On show courtesy of the Gould Foundation collection.
* It will be the Allied vs. the Axis in a quite memorable battle re-enactment! This living history perfomance will captivate and educate. It will take place each and every day at 11 AM and 3:30 PM.